6th International Conference on
Environmental Chemistry and Engineering
Rome, Italy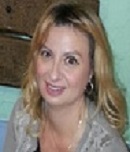 Maria Michela Dell'Anna
Polythecnic University of Bari, Italy
Biography
Dr Dell'Anna completed her PhD in "Chemistry of materials for special uses" at University of Reggio Calabria (Italy), giving a dissertation on "Synthesis and characterization of new transition metal complexes. Aerobic oxidation of organic substrates and C-C bond forming reactions".
During her PhD studies, M.M. Dell'Anna joined for one year the research group of Prof. M. Cowie in the Chemistry Department of University of Alberta (Canada), where she worked on the synthesis and characterization of bimetallic complexes.
Since 2000 she has been Assistant Professor in Chemistry at Polytechnic of Bari.
Since 2012 she has been the Editor of the journal "Recyclable Catalysis", merged with the journal "Catalysis for Sustainable Energy".
Research interests are focused on: i) polymer supported metal catalysts; ii) green nanocatalysis; iii) platinum complexes and iv) risk assessment. She is co-author of almost 45 publications on major journals and more than 20 Communications to Congress.
Abstract
Abstract : Catalytic activity and recyclability of polymer supported palladium or nickel nanoparticles in organic reactions in water